ROS turned five years old in November, so it's time for our sort-of-annual State of ROS. If you recall, we took a deep dive into the growth of ROS in our third-year anniversarypost. We won't be as prolific this time around, but suffice it to say that the past two years have built on the excitement, growth, and adoption of ROS.
Numbers don't tell the entire story, but it's a good place to start.
· There are 175 organizations or individuals who have publicly release ROS software in our indexed repositories, up from 50 in 2009 (through October)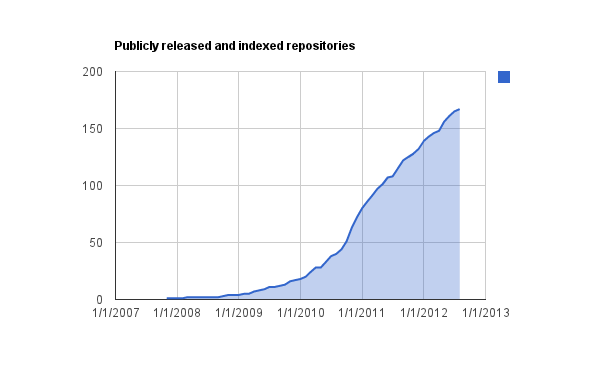 · Not counting the approximately 40 PR2s all over the world, there are many hundreds of robots running ROS. We are aware of more than 90 types of robots that are running ROS, up from 50. With 28 robots with supported installation instructions.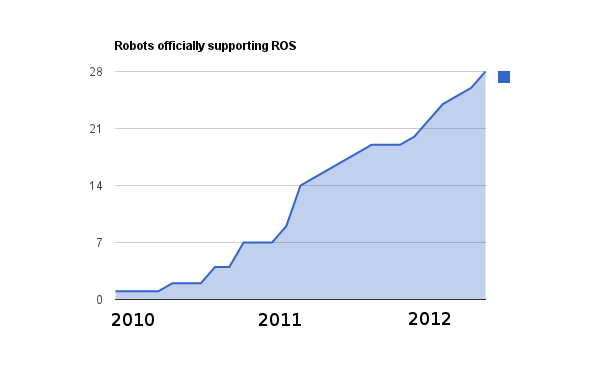 · We had 3699 public ROS packages as of April, compared to 1600 three years ago
· ROS continues to have a strong impact in the worldwide academic community, with 439 citations on Google Scholar for the paper: ROS: an open-source Robot Operating System
· There are now people working on ROS on every continent. Africa, South America, and Antarctica are new to the community this time around. Yes, Antarctica.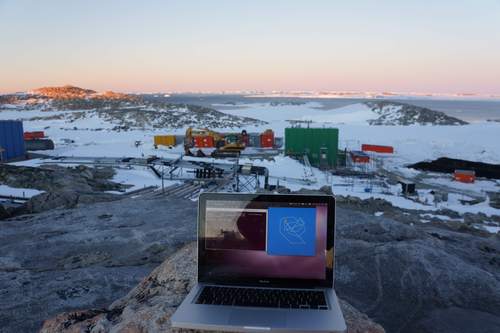 · You can now buy a book on ROS.
· One, and counting. This is the number of industry conferences dedicated to ROS. More than 200 individuals attended the ROSCon 2012 debut last year in St. Paul, MN. ROSCon 2013 heads to Stuttgart, Germany next year.
· People often ask how many users are there of ROS. Due to the open source nature of ROS, we simply don't know how many ROS users there are in the world. What we can tell you is that the ros.org wiki has had over 55,000 unique visitors in the last month. This doesn't include traffic to our many worldwide mirrors.
The latest version of ROS, Groovy Galapagos, is currently in Beta 1 Release. Groovy will be the sixth full release of ROS. This release is laying the foundations for enabling ROS to continue to grow the number of platforms supported.
Inspired by The Mozilla Foundation, The Apache Software Foundation, and The GNOME Foundation, our three-year anniversary blog post discussed the possibility of a ROS Foundation. In May of this year, Willow Garage announced the debut of the Open Source Robotics Foundation, Inc. OSRF is an independent non-profit organization founded by members of the global robotics community whose mission is to support the development, distribution, and adoption of open source software for use in robotics research, education, and product development.
Because of the BSD license for ROS, we often have no idea who is using ROS in their commercial deployments. We suspect there are a few we are missing, but two major new products were announced this year that are built using ROS. First is Baxter from Rethink Robotics. Baxter was announced just a few months ago and the company has set their sites on manufacturing industries. Check out IEEE Spectrum's article on Rethink here. Also built on ROS is Toyota's Human Support Robot (HSR), which is designed to help those with limited mobility within the home. ROS has even made inroads within the industrial robot world of late, specifically through the ROS-Industrial Consortium.
We can't discuss commercial deployments of ROS without mentioning TurtleBot, originally released in April 2011. Recognizing that not everyone can afford, or even needs, a $280,000 PR2 robot, TurtleBot was brought to market for the express purpose of letting as many people as possible get their hands on ROS. TurtleBot 2.0 was recently featured on Engadget and is now available for pre-order at www.turtlebot.com
At Willow Garage, we often refer to ourselves as a software company disguised as a robot company, and we can point to the ongoing growth of ROS as proof of that assertion. We have also been stating for some time that we need a LAMP stack for robotics. With the latest developments in commercial robots built on ROS, it feels like we are in the beginning stages of that process. We can't predict what ROS will look like in five year, or twenty-five, but if we continue to see the adoption, innovation, and excitement from the ROS community that we have seen in the first five years, then things are certainly looking Rosey.