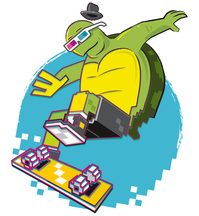 Patrick Goebel is the creator of Pi Robot, which is a custom-built, robotis-based hobby robot. Patrick has been a frequent contributor to the Trossen and ROS communities, including writing a detailed essay for hobbyists getting into ROS.
His entry for the ROS 3D contest builds on Taylor Veltrop's teleop control to adapt it for the Pi Robot, as well as add in a base controller and the ability to define new gestures for control. Patrick has also contributed a serializer package for those wishing to use the Robotis Serializer microcontroller in ROS. Pi Robot may be one of a kind, but, thanks to Patrick's contributions, you have the software you need to build your own.
Patrick will be giving the featured presentation at tonight's Homebrew Robotics Club meeting.