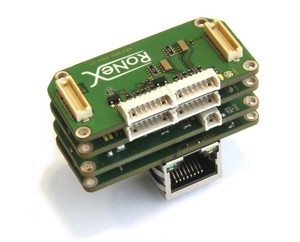 The Shadow Robot Company is excited to announce ROS Hydro support for RoNeX, a scalable, industrial strength fieldbus for robots.
RoNeX allows ROS users to prototype and build ROS robots quickly and easily, providing a seamless link between ROS and a variety of sensors and actuators.
"At Shadow we use ROS in almost every project, so ROS Hydro drivers were our first priority" said Ugo Cupcic, Head of Software at Shadow. "We have been using RoNeX internally for prototyping new robots and our engineers all needed great ROS support, so that really set a high bar for the software team to meet!"
Devices connected via RoNeX can be directly accessed via ROS topics. Custom transmissions have also been implemented for ROS Hydro, so it's incredibly simple to control joint based robots just by adding a few extra lines to a URDF description.
ROS Hydro drivers are available now from your standard ROS repositories for the RoNeX General Input/Output Module. Shadow expects to announce an SPI Module very soon, with ROS Hydro drivers to follow shortly afterwards.

The RoNeX ROS wiki page can be found here and source here. More details on RoNeX here.