From Patrick Wiesen
After four ROS Summer Schools in Aachen, we are happy to announce now our first export ROS Summer School at the Tshwane University of Technology in Pretoria.
It will be a one week event from 07th March 2016 to 12th March 2016 ending up in a competition using the mobile robots developed at FH Aachen. The common mobile robotic topics using ROS will be covered: ROS Basics, Communication, Transforms, Hardware Interfacing, Teleoperation, Landmark Detection, Localization, Mapping and a lot more. After theoretic lectures, we will continue with our hands-on hardware workshops using ROS on the robots as usual.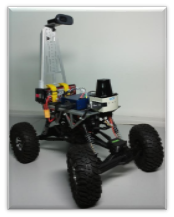 And because we never gonna stop, we are offering another ROS Summer School at our own university FH Aachen this year again. The event is planned from 15th August till 26th August 2016. Students in the field of Robotics, Mechatronics, Computer Science and Mechanical Engineering or everyone else interested in learning the basic skills of ROS is invited to register now! In this two weeks we are handling the following topics of mobile robotics more in detail:
ROS Basics, Communication, Hardware Interfacing, Teleoperation, Transforms, Gazebo Simulation, Landmark Detection, Localization, Mapping, Navigation, Control, some Industrial exhibition and so on and so on. . . Of course all this topics can be experienced on real hardware using our mobile robots after learning the theory.
And if this is still not enough for you, we offer an additional ROS UAV weekend afterwards from 27th to 28th of August. This will include assembling UAVs, first flight setup, flight modes, ROS interfacing, Landmark Detection and getting in touch with autonomous flying. Feel free to choose this option in our application form. Application form, more information, photos and videos can be found on our homepage:
https://www.fh-aachen.de/en/faculties/mechanical-engineering-and-mechatronics/international-topics/ros/
All is organized by MASCOR. The ROS Summer School is designed to teach participants about how to get started with ROS; it is created for those who have had an interest in autonomous systems, but didn't quite know how to get started. With that, organizers recommend students have a basic knowledge of Linux (Ubuntu) and one programming language such as Python or C++. The two-week program is made possible through Mobile Autonomous Systems and Cognitive Robotics (MASCOR), and key players including Prof. Walter Reichert, Prof. Stephan Kallweit, Prof. Alexander Ferrein, and Prof. Ingrid Scholl.