This weekend, @Amal made history by asking the 10,000th question on answers.ros.org.
For posterity, here's a screenshot from Saturday night: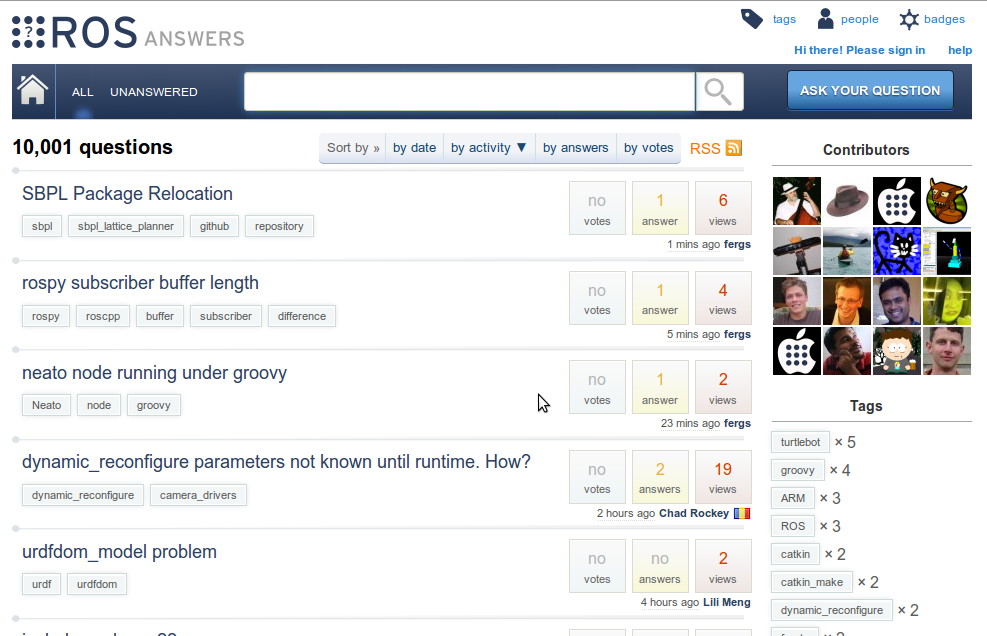 The success of answers.ros.org is thanks to its many contributors. Answers.ros.org has been running for a little bit over 2 years now and in that time, the community has answered 7283 questions, 73% of the questions asked. That's an average of 10 questions per day for the last two years (including weekends and holidays). Traffic has steadily grown, and recently, users have posted closer to 30 questions per day.
There are now 4399 registered users, 388 of whom have earned over 100 Karma, and 60 of whom have amassed 1000 Karma!
@lorenz @tfoote @dornhege and @joq deserve special recognition as each of them has earned over 10,000 Karma. Accumulating a Karma stash of this size requires such actions as their answers being upvoted one thousand times.
Congratulations to the answers.ros.org community for making the site the thriving resource that it is today. Keep up the fantastic work, and keep the questions--and answers--coming.