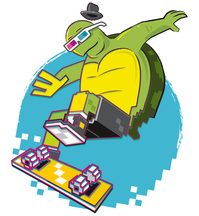 We were absolutely thrilled with eighteen entries to the ROS 3D Contest. The community really impressed us with creativity and technical prowess in these entries, and choosing the prizes was a difficult process. In fact, so difficult that we bent the rules and created two new prizes: 4th Overall and 2nd place Most Useful.
For the Overall prizes, we selected the entries that both amazed us and embraced the spirit of the contest: inspiring and providing building blocks for future Kinect hackers. We've been able to try many of these entries on our own thanks to the great code and documentation, and we hope that others will as well. It was hard to pick a favorite, but we kept coming back to Garratt Gallagher's Customizable Buttons. We tried it on our own desks, and it just puts a smile on your face: you draw a button whereever you please and press it. It made us feel like we were in a cartoon world where we could bend the rules of the universe. Garratt was also the most prolific -- with his six different entries, you can deconstruct the various components that he was able to assemble to produce very different results.
For second place, we selected Quadrotor Altitude and Obstacle Avoidance by the STARMAC project at Berkeley. We loved seeing what a Quadrotor with an Atom processor could do, and they went the extra mile to make sure others with quadrotors had a good starting point. For third place, Taylor Veltrop's Humanoid Teleoperation entry just kept getting better and better. He recently used his library to win best performance in the Robot Athlete Cup 2011 competition by doing robo-ikebana. We added a fourth place for Person Tracking and Reconstruction from a Mobile Base with a 7 DOF Manipulator by Chris Burbridge & Lorenzo Riano. Using a robot to turn a Kinect into a 3D scanner holds many possibilities.
For Most Useful, we were wowed. First prize went to RGBD-6D-SLAM from the University of Freiburg. SLAM with a Kinect holds the potential to unlock many applications, from creating 3D maps and 3D models to cheap autonomous navigation and much, much more. Normally "bleeding edge" means no one else can run it, but, in their case, they produced a 6D-SLAM solution that we were able to download and use in our own offices. There is much to improve, but the potential is huge. For second place, we chose ETH Zurich's Automatic Calibration of Extrinsic Parameters. Anyone mounting a Kinect on their robot should take a look at using their library.
Finally, our PrimeSense Dev Kit 5.0 Awards (thanks PrimeSense) go to Michael Ferguson and the Chemnitz University of Technology. We are confident, from their entries, that they will be able to put them to good use.
Thanks everyone!
Overall:
1st Place ($3000): Customizable Buttons, Garratt Gallagher
2nd Place ($2000): Quadrotor Altitude and Obstacle Avoidance, Patrick Bouffard
3rd Place ($1000): Humanoid Teleoperation, Taylor Veltrop
4th Place ($500): Person Tracking and Reconstruction from a Mobile Base with a 7 DOF Manipulator, Chris Burbridge & Lorenzo Riano
Most Useful:
1st Place ($2000): RGBD-6D-SLAM, Felix Endres, Juergen Hess, Nikolas Engelhard, Juergen Sturm, Daniel Kuhner, Philipp Ruchti, and Wolfram Burgard
2nd Place ($1000): Automatic Calibration of Extrinsic Parameters, François Pomerleau, Francis Colas and Stéphane Magnenat
PrimeSense Dev Kit 5.0 Awards: