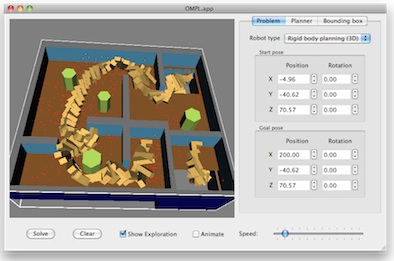 We are happy to announce a new release of OMPL, version 0.10. All OMPL users are recommended to update to the new version. It includes the following changes:
Windows support
Added a primer on sampling-based motion planning and OMPL.
Added an implementation of SyCLoP, a new multi-layered meta-planner that combines discrete search with a sampling-based motion planner. Implementations of Syclop with RRT and EST as the low-level planners are provided.
Added an implementation of EST for planning with controls.
New generic interface for parameter settings for almost anything that is user-configurable. This was done to simplify reading parameters from an input file (see next bullet).
New benchmark program that allows one to easily specify benchmark problems with simple configuration files.
New state spaces for Dubins vehicles and Reeds-Shepp vehicles. This allows one to use any geometric planner to compute feasible paths for such vehicles. See the demo program demo_GeometricCarPlanning.
Added state serialization, deserialization, state space signatures.
Added the notion of DirectedControlSampler.
Added path hybridization, a technique for combining several solutions to a motion planning query to form a better bath. We also introduced a utility class called ParallelPlan that runs several planner instances in parallel and (optionally) uses path hybridization.
Added a more advanced path shortcutting method.
Added support for FCL collision checking library. PQP is actually still faster, and is therefore still the default.
All versions of EST and SBL use the new PDF class to sample more efficiently from empirical probability distribution functions.
Added a wrapper for boost::numeric::odeint to support high-order numerical integration of ordinary differential equations.
Added support for multiple solution paths in a Goal datastructure.
Added StateSpace::getValueAddressAtLocation() to allow faster indexing in states using state space names.
Point your browser to http://ompl.kavrakilab.org/download.html to download the latest version.