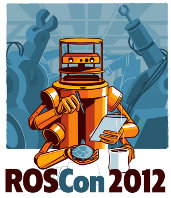 Just two days to go before early registration closes for ROSCon! Registering early gets you two great benefits:
We have fantastic talks planned and are looking forward to seeing the ROS Community get together.
Thanks again to our Founding/Platinum sponsors: Clearpath Robotics, Heartland Robotics, Willow Garage, Bosch, and Yaskawa. Thanks also to our Gold Sponsors, Yujin Robot and CoroWare.