Over the past few years ROS has grown incredibly fast. ROS support now exists
for a wide range of robots, such as manipulators, UAV's, surface vessels, ground
vehicles, humanoids, and many more. With Clearpath Robotics' introduction of
Grizzly, a whole new category of robots is added to ROS: the Robotics Utility
Vehicle.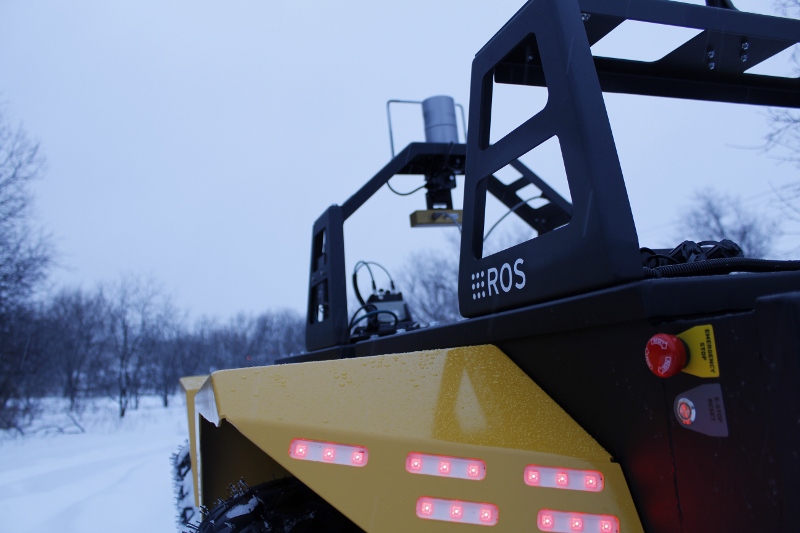 Designed for the most aggressive of agriculture, mining and defense robotics
research programs, Grizzly is an ATV-sized robotic platform built to perform
like a tractor with the precision of an industrial robot. It can pull a plow, carry
a massive 600 kg payload, and mount a wide range of standard utility vehicle
accessories.
Grizzly is a ROS-native robot, allowing users to pull from a huge resource of
information and code, as well as cooperate with a fast growing community of
experts. Using ROS also allows code to be ported from one robot to another,
enabling you to take your lab research into the field quickly and easily.
Grizzly is aptly named. This bot is equipped with an extremely powerful drivetrain
delivering a maximum drawbar pull of 6300 N (1400 lbf). It can survive the
toughest tests, providing modularity while maintaining the rugged and robust
design, which has become a Clearpath trademark. With 26" all-terrain tires and
an oscillating front axle, Grizzly can conquer large obstacles with all four wheels
securely on the ground. It also offers top of the line control system performance.
Independent high power DC motors with individual closed loop control give fine
control even in the toughest terrain, while high resolution encoders and an array
of internal sensors provide detailed feedback on the robot's state.
ROS welcomes Grizzly to the community!
If you're looking for more information, check out the Clearpath Robotics Grizzly
website.