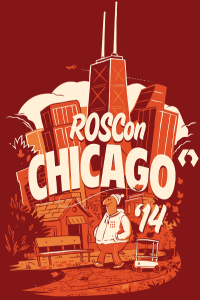 We're looking forward this weekend to another great ROS event!
This will be the third ROSCon. To get into the mood take a look through the old sites for
2012
and
2013
. They include links to the old programs as well as video recordings of the presentations available for viewing.
This year we have a great
program
with 19 reviewed presentations on the use of ROS in environments ranging from deep mines to low earth orbit.
As you prepare please think about topics for lightning talks or birds of a feather discussions. Everyone will have an opportunity to pitch both at the conference. For lightning talks you can prepare a few slides but don't try to do things which are too fancy.
We look forward to seeing you there. There will be some construction on the Blue Line which may make travel from the airport a little harder. We have posted detail on the
website
.
If you're attending you can add photos to the
Google+ Event
, or if you can't make it but want to see what's going on watch the event as well as hashtags #ROSCon2014 or #ROSCon
We'd like to thank our generous sponsors, especially: Qualcomm, Clearpath Robotics, Rethink Robotics, and Cruise Automation.