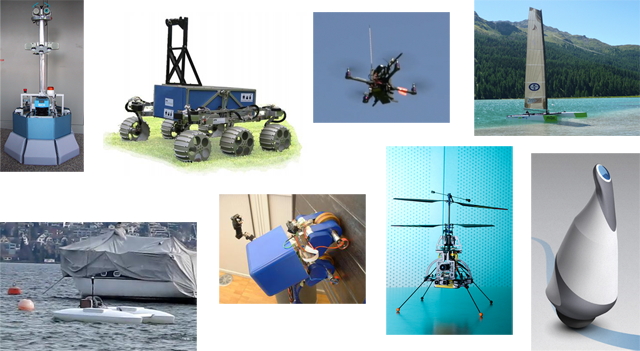 The Autonomous Systems Lab (ASL) at ETH Zurich is interested in all kinds of robots, provided that they are autonomous and operate in the real world. From mobile robots to micro aerial vehicles to boats to space rovers, they have a huge family of robots, many of which are already using ROS.
As ASL is historically a mechanical lab, their focus has been on hardware rather than software. ROS provides them a large community of software to draw from so that they can maintain this focus. Similarly, they run their own open-source software hosting service, ASLforge, which promotes the sharing of ASL software with the rest of the robotics community. Integrating with ROS allows them to more easily share code between labs and contribute to the growing ROS community.
The list of robots that they already have integrated with ROS is impressive, especially in its diversity:
That's not all! Stéphane Magnenat of ASL has contributed a bridge between ROS and the ASEBA framework. This has enabled integration of ROS with many more robots, including the marXbot, handbot, smartrob, and e-puck. ASL also has a Pioneer mobile robot using ROS, and their spinout, Skybotix, develops a coax helicopter that is integrated with ROS. Not all of ASL's robots are using ROS yet, but there is a chance that we will soon see ROS on their walking robot, autonomous car, and AUV.
ASL has created an ASLForge project to provide ROS drivers for Crab, and they will be working over the next several months to select more general and high-quality libraries to release to the ROS community.
ASL's family of robots is impressive, as is their commitment to ROS. They are single-handedly expanding the ROS community in a variety of new directions and we can't wait to see what's next.
Many thanks to Dr. Stéphane Magnenat and Dr. Cédric Pradalier for help putting together this post.