Crosspost from willowgarage.com
Clearpath Robotics aims to progress robotics development by providing universities with robust platforms for prototyping and research. To give robotics research an extra boost, Clearpath Robotics introduced the PartnerBot Grant Program this summer.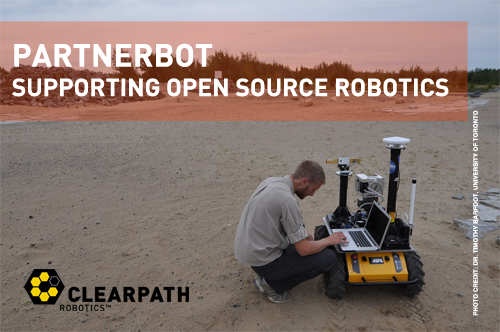 The PartnerBot Grant Program is a one-year commitment during which a prestigious research team will use the Clearpath Robotics Husky A200 to pursue its research goal, publish for public review, and add code to the rapidly growing open source ROS (Robot Operating System) community. Initially aimed at donating $25,000 worth of equipment, the sheer number of applicants and outstanding quality of the submissions prompted Clearpath Robotics to increase the total value to $100,000.
The Husky A200 is a rugged, all-terrain robotic platform for rapid prototyping and research applications. In the past we've seen it used for prototyping planetary rovers, researching autonomous navigation, environment mapping, and countless other applications. The Husky A200 integrates seamlessly with the free and open source ROS robotics framework that offers full control of the Husky, including (but definitely not limited to) autonomous navigation, perception, and mapping. Using the standardized platform and open software allows researchers to cooperate, share findings, and repeat experiments.
More than 150 universities world wide showed interest in the PartnerBot Grant Program. Clearpath Robotics has received submissions from every continent on the planet (except from Antarctica) with applications ranging from mine clearing, to agricultural robots, to planetary rovers, and everything in between. With such a great turnout and impressive applications it seemed a shame to support only one research project, so Clearpath Robotics has worked feverishly over the past month to scrape together enough money to support the following 10 distinguished research teams.
University of California, Santa Cruz
University of Coimbra
Orebro University
Universidad de Chile
Drexel University
Federal University of Minas Gerais
University of Hohenheim
University of Michigan
Queensland University of Technology
University of Bremen
Clearpath Robotics would like to thank everyone who invested time and energy to submit a proposal. The judging process was tough, selecting only one would have been impossible - even 10 was difficult. To read more about the outstanding research projects and PartnerBot recipients, visit the PartnerBot site.