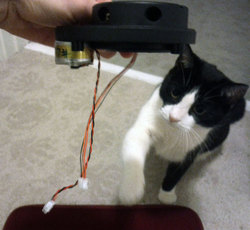 Announcement from Eric Perko of Case Western to ros-users
Hello folks,
I'm happy to announce a ROS driver for the Neato XV-11 Laser Scanner. ROS has had a driver for the Neato itself for sometime now, but this was only useful for going through the Neato's onboard computer. Well now you can just yank that XV-11 laser scanner out, strap it to your iRobot Create and feed it right on into the rest of ROS! The XV-11 scanner gives 360 pings at 1 degree increments at a rate of 5Hz and is useful from ~6cm to ~5m.
Chad and I have written up a number of tutorials to help people get started using this low-cost scanner including how to remove the laser from the vacuum and wire it to USB, how to get it up and running with our ROS driver and how to interpret the raw bytes if you want to parse the data yourself on a microcontroller.
Let us know if you have any problems/questions/comments.
Eric Perko, Chad Rockey
CWRU Mobile Robotics Lab