Marvin is an autonomous car from Austin Robot Technology and the Department of Computer Science at The University of Texas at Austin. The modified 1999 Isuzu VehiCross competed in the 2007 DARPA Urban Challenge and was able to complete many of the difficult tasks presented to the vehicles, including merging, U-turns, intersections, and parking.
The team members for Marvin have a long history of contributing to open-source robotics software, including the Player project. Recently, Marvin team members have been porting their software to ROS. As part of this effort, they have setup the utexas-art-ros-pkg open-source code repository, which provides drivers and higher-level libraries for autonomous vehicles.
Like many Urban Challenge vehicles, Marvin has a Velodyne HDL lidar and Applanix Position and Orientation System for Land Vehicles (POS-LV). Drivers for both of these are available in the utexas-art-ros-pkg applanix package and velodyne stack, respectively. The velodyne stack also includes libraries for detecting obstacles and drive-able terrain, as well as tools for visualizing in rviz.
The Marvin team has also released an art_vehicle stack that provides the libraries that make Marvin go, including their navigation system. You can try it out with their simulator built on Stage.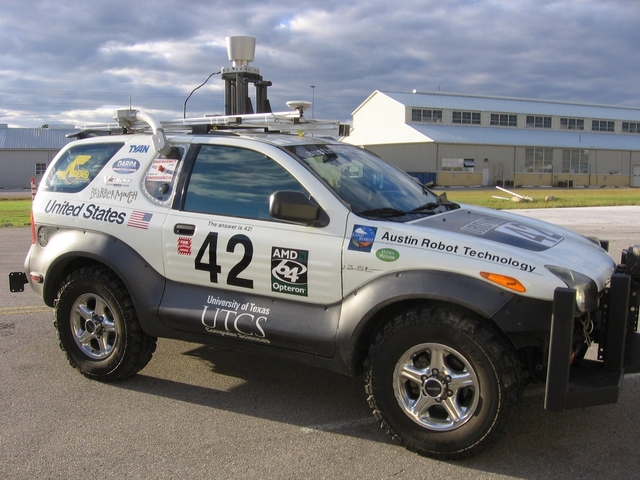 Professor Peter Stone's group in the Department of Computer Science has been using Marvin to do multiagent research. You can learn about the algorithms used in the Urban Challenge in their paper, "Multiagent Interactions in Urban Driving". More recently, they have been doing research in "autonomous intersection management". This research is investigating a multiagent framework that can handle intersections for autonomous vehicles safely and efficiently. As you can see in the video above, these intersections for autonomous vehicles can handle far more vehicles than intersections designed for human-driven vehicles. For more information, you can watch a longer clip and read Kurt Dresner and Peter Stone's paper, "A Multiagent Approach to Autonomous Intersection Management"
Many people have contributed to the development of Marvin in the past. Current software development, including porting to ROS, is being led by Jack O'Quin and Dr. Michael Quinlan under the supervision of Professor Peter Stone.